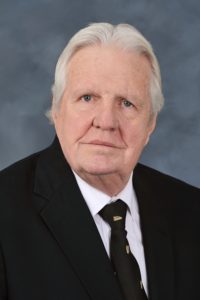 Dave O'Callaghan was raised on the south side of Chicago in the Englewood neighborhood.  Dave is a product of Catholic School education attending Sacred Heart Grammar School, Leo High School, and eventually graduating from St. Xavier University with a Bachelors Degree with a major in Accounting.
Dave began his career with the Chicago Police Department as a Police Cadet right after High School.  After three year he was sworn in as police officer.  His work mainly was centered in violent neighborhoods and gang related issues over the years.
Dave made Detective in 1977 and was assigned to Area One Homicide/Sex. During this time period, he was detailed on two separate occasions to the Cook County State's Attorney's Office, Gang Prosecutions Unit.  His first major case there involved a group known as the Royal Family and was the catalyst for opening that unit in Special Prosecutions in that office.  Later Dave returned there after a major gang war with unrelenting bloodshed on the south side involving street gangs, mainly by  the El Rukn Street Gang.  Over the years Dave worked on hundreds upon hundreds of Murders and thousands of shootings and sex crimes.
In 1986 Dave was promoted to Sergeant and began working in patrol districts.  Dave was tapped, while a Sergeant, for a detail to the Organized Crime Drug Enforcement Task Force with the Bureau of Alcohol, Tobacco, and Firearms of the Federal Government.  Dave was designated  a US Federal Marshall.  During the next few years Dave worked on dozens of major investigations that resulted in major Racketeering/Organized Crime prosecutions.
In 1998, Dave was promoted to Lieutenant and retuned to the 6th Police District out on the South Side of Chicago.  For several years Dave was the head of the Tactical/Gang Unit there.  Toward the end of his career, Dave became the Commanding Officer of Area Two Robbery/Burglary/Theft Unit in the Detective Division before retiring after more that thirty-five years as a sworn police officer.
This book is Dave's first endeavor into writing a full-length book. The book spans from 1970 to the present.  This book deals with his career and the effects of crime on victims and their loved ones, as well as the impact on detectives and prosecutors. There are numerous true stories including many Homicide Investigations. Even though these cases involved a lot of sadness, a bit of light-hearted moments are intertwined with the stories in the book.  Dave hopes the book contains pleasurable reading but also wishes to carry messages with his writings.